LA Business Journal: Local Cannabis Dispensaries Fighting for Survival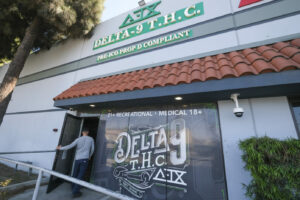 When Proposition 64 passed in 2016 legalizing marijuana sales in California, Wilmington dispensary owner Javier Montes and hundreds of other cannabis retailers hoped for better times ahead.
"We fought so hard to get us from the underground market and into the light," said Montes, who is managing partner and owner of Delta IX THC in Los Angeles.
Instead, things have gone from bad to worse for the local cannabis dispensary industry.
When the law first went into effect in 2018, there were licensing delays and a wave of communities enacting bans on retail sales of cannabis, which forced many cannabis businesses to close.
More recently, though, licensed cannabis retailers have found themselves in a struggle for survival against a thriving black market whose players don't have to pay high taxes and comply with stringent regulations.
According to the United Cannabis Business Association, a Sherman Oaks trade group, there were an estimated 8,000 cannabis retail outlets in California in 2017, before the law took effect. The group drew that estimate from the website Weedmaps.com, which attempts to map every cannabis business.
Today, the association says, there are roughly 850 licensed dispensaries statewide, a staggering drop of nearly 90% in just five years.
According to an October report from the Los Angeles city Department of Cannabis Regulation, the department had granted about 525 temporary approvals for cannabis businesses in the city; how many of those are retail storefronts and how many have actually opened were not specified.
Black market thriving
As part of the deal putting Proposition 64 on the November 2016 ballot, cannabis retailers had to agree to pay state excise taxes totaling 27.5% on top of sales taxes and whatever business taxes municipalities imposed on the industry. The city of Los Angeles has one of the highest business tax rates on cannabis companies in the state, at 10%.
"For every dollar in product sales, I pay 46 cents of that dollar in state and local taxes," Montes said. "No other industry has to pay anything close to that amount."
Cannabis retailers have for the most part passed these taxes onto their customers but have run into a formidable obstacle: the black market. Operators in that market do not pay these taxes, nor do they comply with the numerous packaging and testing regulations that legitimate businesses face.
"In Los Angeles County, the black market price for cannabis is as much as 60% less as the price charged by licensed sellers," said Jerred Kiloh, owner of the Higher Path dispensary in Sherman Oaks and president of the UCBA.
This gap opened up almost immediately after the 2018 implementation of Proposition 64. Prices at licensed dispensaries went up 30% or even 50% overnight, while the black market price remained largely unchanged.
With that kind of price spread, customers have been fleeing the licensed dispensaries and going to unlicensed shops or in some cases, buying marijuana on the street.
Kiloh said that now, a majority of the estimated $14 billion in cannabis product sales in the state take place at unlicensed businesses.
"My first quarter sales have dropped 15% over the past year, almost entirely due to the black market," said Carlos De La Torre, owner and chief executive of Cornerstone Research Collective Inc., an Eagle Rock dispensary.
Kiloh said his sales have dropped roughly 30% over the past year while Montes said his sales declined roughly 20%. "I don't blame the customer," Montes said. "Who wouldn't go to where the lowest price is?"
Tax crunch
For dispensary owners, it's not just the amount of taxes taken out of their revenue. The excise taxes generally have to be paid up front, upon purchase of the inventory – unless the distributor makes an exception. With sales falling, that creates cash flow problems for the dispensary owners.
"You end up paying taxes for the product and then some of the product goes unsold because your customer volume is falling," Kiloh said. "This places a higher debt burden on dispensary owners. That's a major reason why a debt bubble is building in this industry."
Delta shopkeeper positions merchandise, which must compete against black market product at lower prices.
As a result of all these pressures, all of the dispensary operators reached for this article said they personally know of other dispensary owners who have decided to sell their businesses, often at distressed prices, though none said they were at the point of putting their own dispensaries up for sale.
Kiloh said there's no official tally of the number of cannabis businesses that have either been put up for sale or have sold.
But Kiloh and others say the end result is a consolidation in the industry.
"There have been a couple of brands that have a critical mass of dispensaries, most notably Kiva (Brands Inc. of Oakland) with 700 dispensaries throughout the state, and a few vertically integrated cultivators that have emerged over the past couple years," Kiloh said.
Seeking tax cuts, more enforcement
Cannabis dispensary owners, distributors and cultivators have for months now been pushing state lawmakers for tax cuts and for stepped up enforcement actions against black market operators.
In December, they held a rally in Sacramento calling for a range of tax cuts, including elimination of a cultivation tax, reducing the excise tax rate to 15% and requiring excise taxes only be paid once the cannabis product is sold to the consumer.
The industry had pushed many of these reforms in previous legislative sessions, only to see them fail. But this year, Kiloh said he is heartened that these and similar reforms are being taken up by several lawmakers and the office of Gov. Gavin Newsom.
There's also a push at the local level to put a measure on an upcoming Los Angeles city ballot to lower and restructure the 10% business license tax the city levies on cannabis businesses.
But tax relief alone will not be sufficient, these dispensary owners say. What's also needed is stepped up enforcement against illegal dispensary operators. While there have been occasional law enforcement raids on these illicit businesses, it has not been enough to hamper black market operations.
Contrary to popular belief, the black market is not just the stereotypical drug dealer on the street corner. There are also hundreds of shops that look like licensed dispensaries but don't pay taxes or comply with regulations, Montes said.
"People walk into these stores and can't tell the difference between them and legitimate businesses, except that the price for the product is a whole lot cheaper," Montes said. "More enforcement has to be a priority and well-funded so that we stop playing whack-a-mole and stop illegal businesses from reopening," he said.
New cannabis businesses?
Despite all these pressures, some cannabis industry entrepreneurs are still seeking to open retail dispensaries.
One of these is Luis Rivera, owner of Studio City-based SeeCanna, a cannabis delivery service that started up in December. Rivera, who previously was a cannabis industry consultant, said he has put in an application with the city of Los Angeles to open up a retail cannabis dispensary on the premises of his Studio City office.
But there's a catch: Rivera is counting on some of the taxes the industry now faces being cut to make his businesses successful.
"I'm very optimistic that this year, we will see some success on this front," Rivera said.
And if the tax cuts don't happen?
"If they don't happen, then the industry is done and I probably will have to sell to some big operator," Rivera said.
https://labusinessjournal.com/special-reports/local-cannabis-dispensaries-fighting-for-survival/
SEE RELATED